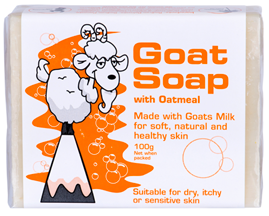 Goat Soap Oatmeal 100g
General Information
Containing Australian oat bran with colloidal oatmeal, this soap will help restore your skin's natural PH balance. It is the perfect gentle exfoliator, helping to absorb excess oils from your skin while keeping it smooth and radiant.
Warnings
For external use only. Avoid contact with eyes.
Common Uses
Suitable for dry, itchy or sensitive skin
Ingredients
Sodium Palmate, Sodium Cocoate, Sodium Palm Kernalate, Aqua (Purified Water),Oat Bran(Avena Sativa), Colloidal Oatmeal, Goats milk Powder, Pure Goat Milk, Vegetable Glycerin, Sodium Chloride, Parfum (Fragrance), Sweet Almond Oil, Tetrasodium EDTA
Directions
Take soap and lather in the hands. Apply the lather to the entire body and gently massage. Rinse it off thoroughly.